Supply all types of Flat Bottom Bags
Enjoy the best of both worlds with our new Square Bottom Gusseted Bags! Now you can get the advantages of a traditional bag along with those of a stand-up pouch. Perfect for ground or whole bean coffee and loose tea leaves, our new Square Bottom Gusseted Bags allow even the lowest density product to sit narrow and sturdy on the shelves without ever worrying about tipping over. The paneled look of these bags makes them perfect for graphics, labeling, and hot stamping as well as degassing valve application. Available in a wide array of colors and laminated in foil or clear poly to meet any barrier requirement.
Application
Specifications
Square bottom bag with zipper is the perfect packaging solution for coffee, candy, tea, pet food, snack food, trail mix, gifts, crafts, bath & body, dental & medical products. We are your #1 source for quality bags and packaging that will make your products stand out from the competition!
Square bottom allows for easy filling and has great shelf appeal!
The paneled look of these bags make them perfect for graphics and labeling
Available in a variety of colors
Optional de-gassing valve available
Used widely for coffee, tea, powder mixes, and much more!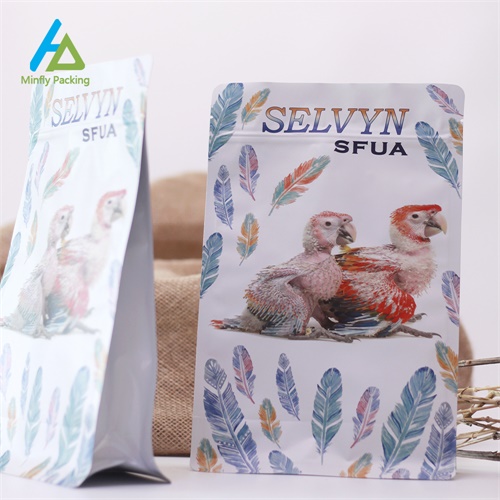 What material specifications can you offer?
We offer a wide range of custom laminating materials to meet customer specifications. Contact us to get a detailed list of material specifications that we can offer.
What Are the Uses of a Square Bottom Pouch?
The Square Bottom pouch is popular for its versatility and multi-functionality.
The pouch is capable of serving a wide range of purposes that ranges from coffee, pharmaceutical, and household packaging.
You can use the pouch for packaging purposes, storage, preservation, and domestic packaging, etc.
What Colors Are Available for Printing On Square Bottom Pouches?
You can design a square bottom pouch to meet your brand's specific requirements. There are over ten colors from which you can choose from.
Honest use of state of the art techniques and machines in printing and designing pouch.
The available printing methods include: Digital printing, Matte Finishing, Stamping, etc.
Are Square Bottom Pouches Customizable?
You can customize custom square bottom pouch to meet your specific needs. You can tailor all aspects of the pouch in line with your product need.
Some of the features you can add to square bottom pouch are:
Windows
Handles
Tear notches
Valves
Etc.